Hiiiiyaaa i am slowly getting used to Singapore. Seeing gloomy faces everywhere...Urgh.
I was there (at Thailand) for only about 4 days but i learnt a lot! The people there seem to be so happy and contented leading such simple lives earning just enough to live. Whereas here in Singapore, our lives are so much more comfortable earning probably 5x more than them(majority of the thais) but yet we can never be contented and always yearning for more. That's why most of us work soooo hard to earn more money and end up being stressed up which results in us being very moody half the time (and it shows on most of our faces...).
Ok that aside, let me start on
Day 3
!
We headed to....
MBK!!
Went to try the food at the food court...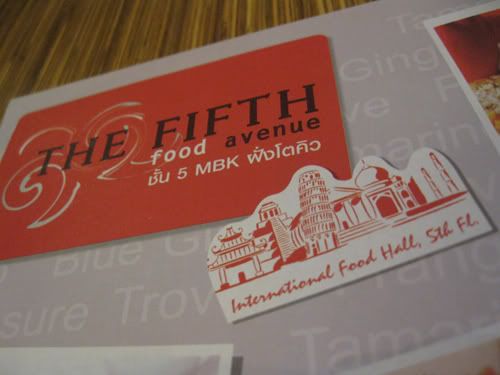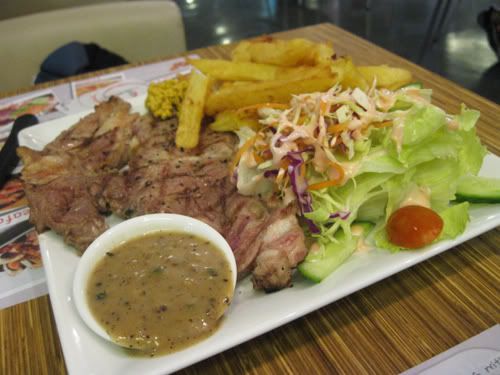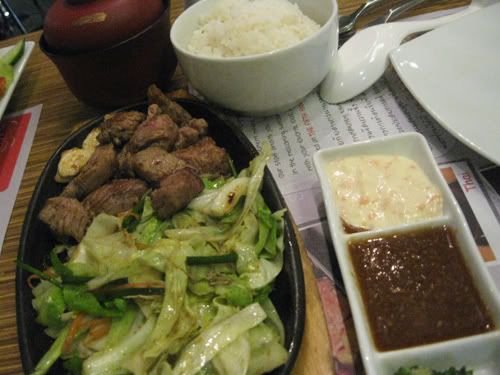 Food looks quite good right?
But it
SUCKED
. Plus...it wasn't really cheap (compared to all our other meals we had in BKK).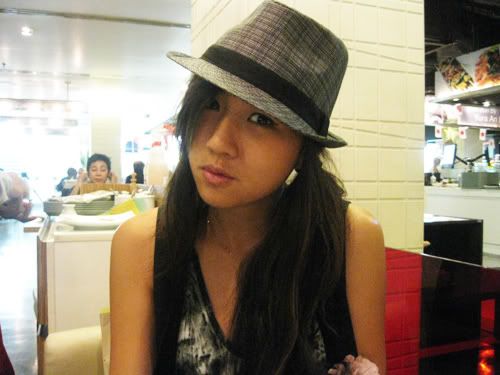 However i like the whole modern look of the place (they even have a place to use the internet-that's how i managed to blog)! I also like that they go by a "cashless" system kinda like
Marche
.
I don't really like MBK. Not a good place to do your shopping at. A lot of nice eateries though! Had ice cream at a shop on the 1st level and it was damn good! About SGD$2.50 per scoop though...pretty much like Singapore's?
After spending about 2 hours at MBK, we decided to head to Chatuchak Weekend Market!
Went by a Tuk Tuk again!
Wondering where my hat went?
THE TUK TUK WAS SO FAST AND IT WAS SO WINDY...MY HAT FLEW AWAY!!!
I wonder how those super skinny people or kids tahan the trip! Quite dangerous.
But you know what??

DARYL IS A SUPERHERO.
He got the Tuk Tuk driver to stop at the side and he ran at the speed of light to save my poor hat.
YAY!!! But poor hat got so dirty...kena run over by 09863417824 cars and buses.
We shopped for close to 5 hours? The place is HUGE. Saw a super duper nice pair of Vans shoes and i soooo wanted to get it but was quite unsure of its authencity. :( They even have Dr Denims and Cheap Mondays there? Hmm....a bit weird ah.
After all that walking...we were soooo tired we decided to go back to the hostel.
Ordered food!
It was so cheap and good we even ordered a 2nd round!
No wonder i gained weight.
Eat and eat and eat non-stop hits.
Day 4!
Wish this day didn't have to come so fast!
We had to go back to Singapore!
We had to wake up at around 6am to catch our flight but since we're such pigs...i stupidly turned the alarm off for the phone UNKNOWINGLY, daryl stupidly turned the alarm off for his itouch cus he said i was going "SO NOISY *COVER EARS*!!!!!" and the receptionist forgot to give us a morning call...
WE MISSED THE DAMN FLIGHT!
Stranded at the airport...
Sleeping for an additional hour costed us $4xx for a return ticket to Singapore.
SIGH SO HEART PAIN RIGHT!!!
Lesson learnt.
If you've a early morning flight, go to the airport early to sleep!
Beautiful views from the plane...
and after 2 hours...

HELLO SINGAPORE!!!
GOODBYE LAND OF SMILES!!! :(:(:(
Am soooo going back again! :)
Remember to come back on the 24th October to view my scrapbook!!! ;)