Hey ho!!! I'm back in sunny Singapore! It feels so much more comfortable cus everywhere's familiar.
But...
I really love Bangkok!
Yes i went to Thailand!!!! And of course...since it's the best shopping destination,i shopped a lot...say, 20kg of clothings? Hmm is that a lot? 
It was really really enjoyable and it's the first time my boyfriend actually bought more clothes than me (only on the first day but on the whole i bought more i win! hehe!).
Let me begin with
Da
y One
!
Decided to go by a budget airline and i swear the plane's really small!!
Thank goodness it's only a 2 hour trip!
Have to say SGP's so small cus Daryl met his friend in the plane,
of all places...on a plane?!?!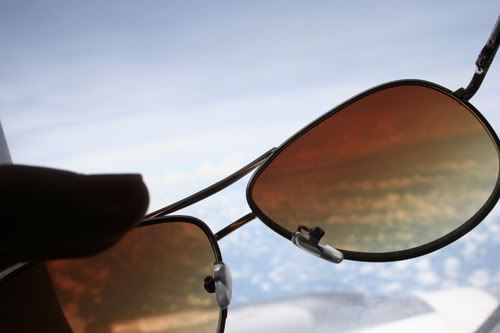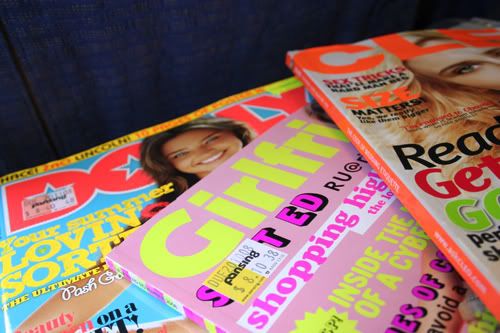 So this trip's not funded by our parents but instead we're using our hard earned money and we decided to put up at Ban Sabai Youth Hostel (in other words, budget hotel).
It wasn't such a bad idea after all cus the place was rather clean and they have the basic hotel services we need(laundry, food delivery, chamber maid, gym, swimming pool, massage parlour..etc).
It was away from the hustle and the bustle of the city...
not a very good thing because we had to take really loooooong taxi rides to the shopping destinations.
But the taxi fare there is extremely cheap!!! Really wonder how they earn!
We headed to Chatuchak Weekend Market for awhile in hope that it'll be open on a Fri but nah...it was a trip wasted...
Saw cute puppies though!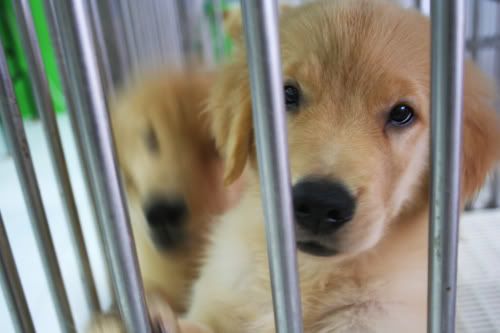 They don't allow us to touch it nor take photos of the animals but thankfully i managed to snap a few!
The puppies there are sooooooo cute and very cheap (and there are A LOT of breeds)! We asked the price for a toy poodle and if i'm not wrong, it's only about SGD$190??!?! It's crazyyyyyy!! We wanted to get a pup back sooo badly but we'd face a lot of difficulties cus SGP is so strict.
The pets section has kitties, lizards, snakes, bunnies....a lot of different animals!! Went crazy squealing like mad (and screaming because lizards and snakes give me the creeps)!
Headed to Suan Lam Night Bazaar after that and sadly, we didn't take any pictures because we were too busy shopping and enjoying our full body massage for only $10/hour? Awesome or what!!
Day 2
- We woke up super duper early!!!
Went to Platinum Fashion Mall to get clothes!
It's a wholesale mall so it's an excellent place for blog shop owners to head to!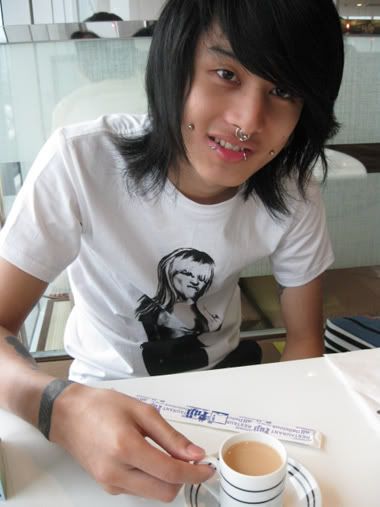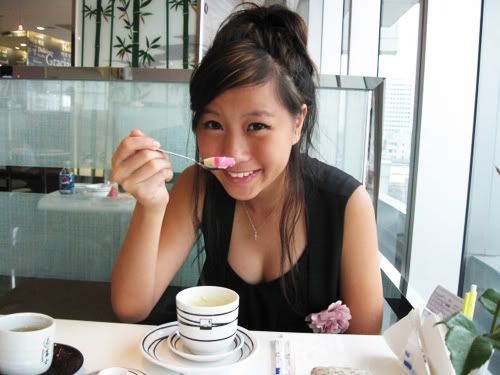 Food in Thailand is very very cheap. We ordered so much but the bill totaled up to only about SGD$23 for 2 people?
Sigh this trip made me gain 3kg! Am very sad but i will lose it i will lose it!!! We had supper every night before going to bed...gosh.
The street food is DA BEST. Super cheap and super goooooooooood!
After we were done with Platinum Mall, we headed to Khaosan Road!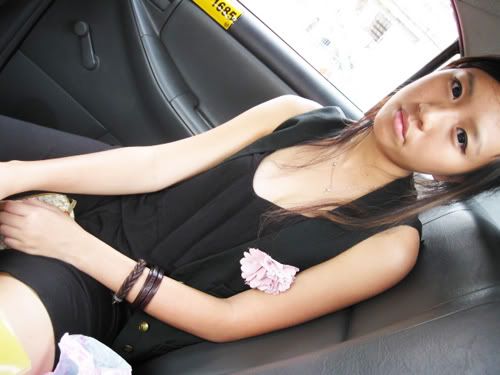 Super sian and tired...thank goodness there's shipping companies all around! Cannot imagine if we have to carry all the stuff back to the hotel..
Daryl looooooves this place so much cus he can find all his ear plugs and studs here at a steal!
Khaosan Road is just like Holland V in Singapore. A lot of
ang mohs
here.
We visited many tattoo parlours and settled down at Idea Studio cus the people there are very very friendly!
I realised that everyone in Bangkok's so much friendlier than the people in Singapore. There are a lot of people who look really fierce but when you talk to them, they're so helpful and friendly. I think the ratio of the nice people in BKK to the ratio of that not so nice ones is like 100:1? I love the Thais!!
We sat at Idea Studio talking to the crew and guess what?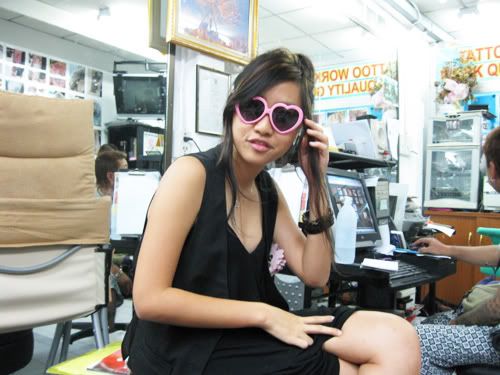 .............................
.......................
...............
.........
.....
...
..
.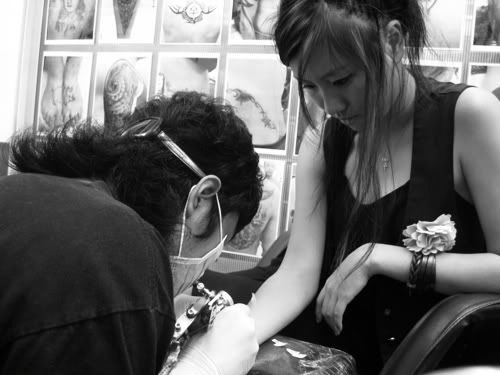 Hehe that's right i got a small tattoo!
Have been wanting to do this since a long time and since it's simple (just fonts) i suppose it's ok to let them do it! 
The cool thing is they gave me a certificate thingy with a picture of my tattoo and some words!
Oh and he made me totally freak out cus he made a mistake in a letter (partly because he doesn't know how to read)!!! Thank god he managed to cover it up or else i think i'll just die man...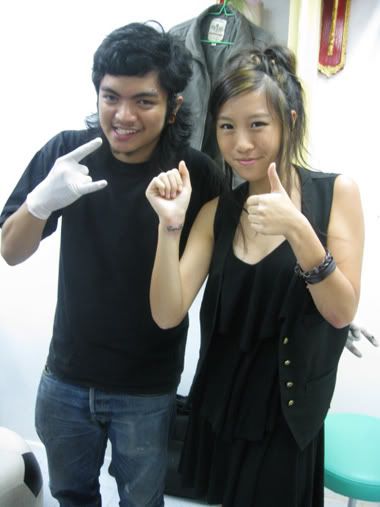 Am very proud of it! It's really cool to travel around the world and get inked by different artists all around the world!!
You'll get to see the close up SOON. Not revealing it till 24th so you will come back to see the post! Hehe.
However, having a bad feeling about the look of it when it heals...a lot of friends did it there and it looks all smudgy...
So sad!! I want it to remain like that...swollen and dark. Looks like it's uhmmmm...embossed? Haha.
After that, we headed to Suan Lam Night Bazaar AGAIN!!
Had the Thai Food there and ordered A LOT. The food there is soooo cheap we couldn't help it!
Went for another round of shopping and MASSAGE! Was so good Daryl and i fell asleep.
Went back home by the Tuk tuk...
Scary but very very fun! Bought supper on the way back and yup, stuffed ourselves silly!
I want to continue with DAY 3 (& today) but i am soooo tired i think i should get some rest now!
I might continue tomorrow (or the day after...or not till 24th)!! :D
By the way, before i go,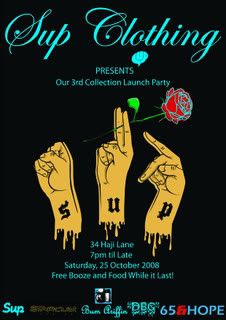 Sup would like to invite you to our 3rd Collection Launch Party on 25 October 2008, Saturday. See you there!