I feel so accomplished!
I managed to wake up early despite the fact that i slept at 2ish to go jogging! Finally. I really hope i won't stop today though! Must do it 3 times a week! It isn't hard...i've done it before and it is really effective (in helping you lose the flabs)! I'd love to go swimming but it's really uncomfortable going to the public pool alone (after realizing that ah peks will wear their goggles to look underwater to see your body!!) so yeah...jogging's the way to go!!!
Sad thing is that i feel much tanner now and i know i don't look good tan. I don't think the sun block i am using works. It states SPF130 but i still get tan no matter how much i apply. Stupid sun block. I guess it's quite impossible to stay fair if you want to go under the sun for an hour - 3 times a week. :(
My hair is a total mess now. I used a paper scissors to
snip snip snip
it and the outcome? You wouldn't wanna see it. It will be in a bun till i do something about it. Gonna complete my highlights later (woohoo
super light blonde
!!) but i'm quite worried about my hair condition. It's so dry (feels like grass man) after the bleaching and everything. My scalp hurts a lot when i pull my hair lightly.
I feel that when i go to the salon to do hair treatments, they seem to just put conditioner and it will stay soft for a day and go back to it's original state the following day. Seems like a total waste of money because i can put conditioner everyday and have soft hair everyday without paying someone to do it for me!
So what will work for my hair condition? Hmm.....Looking for good hair products/shampoo to solve this problem! Am an idiot at hair products!
----------
Anyone interested in
Plain Black Harem Pants
(looks almost like the one seen below)?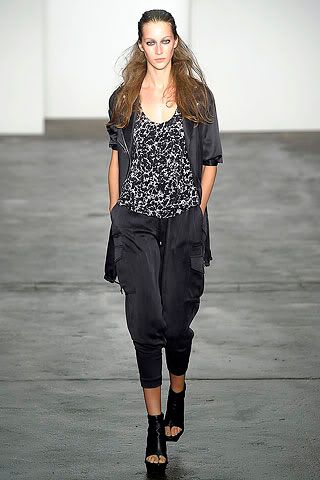 As seen in Alexander Wang Spring 2009 RTW
I've placed orders for a small quantity of it and wondering if i should bring in more!
Leave a comment to let me know asap so i can estimate how many to bring in! The pants will be in the collection (#58) after tomorrow's.
Tomorrow's (Tue 18 Nov)
Collection #57
will be massive! Launching at
9pm sharp
so remember to visit www.Twistandkiss.com!
I'll be bringing in more items (more designs and quantity) from now till Dec! That'll mean busy busy but it's ok because my main focus is to make as much money as possible for Jan...
Most of you should already know what's gonna happen in Jan but if you still don't know...
Wait & see! :)