So many people are complaining that my blog has a virus....
I've no idea what's happening because i'm using a Mac and my mac doesn't have those virus scanners and whatsoever!
Everything seems fine when i view it with both my boyfriend's laptop & my own...so i really don't know what i can do to get rid of it!
Please help? Anyone?
--------------------
Freda! You are right! Figo isn't photogenic! Haha.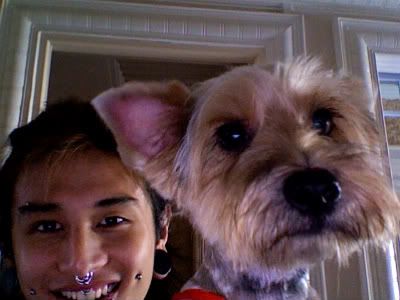 I had a hard time making him look at the camera (ok or even stay still)! So i placed a piece of choco on top of the screen. Hehe. Too bad dogs can't eat choco...OH I JUST REMEMBERED! That day I nearly killed Figo! Freda's sister asked me if she could feed Figo "black forest cake" and i said yes. OMG I SAID YES TO FEEDING FIGO CHOCOLATE! Thank god nothing happened to him. I'd kill myself if he fell sick because for a moment, i forgot "black forest cake" = "chocolate cake".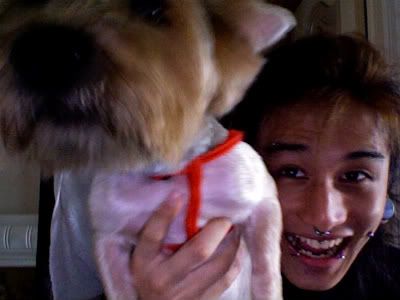 I love these pictures!! I think i'm quite weird because i feel extremely happy when guys treat their pooch like a baby! It shows the softer side of them and yeah i just like it! Especially when i'm out and i see a big, tall, macho man carrying his pooch, i'll smile to myself. Haha....SORRY I AM JUST WEIRD LIKE THAT.
I'm at work now! It's been long....and i'm only working for a day. Haha.
Shuting told me some people were looking for me that day...AHHH i'm sorry i didn't mention this on my blog but i'm only working at SUP on weekends! Today's my last day of work and next week i will be busy with the opening of the shop!
Ok, so many people know about it already so for those who don't know yet, my shop will be at Haji Lane! More details would be released next week! :)
I am excited!! :) Everything is moving SO FAST.