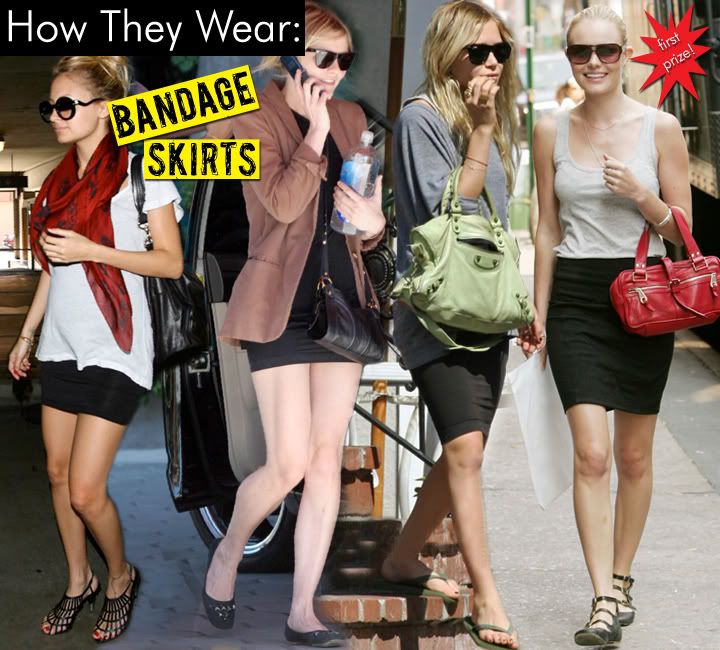 It's a bandage skirt bonanza!
While body-conscious apparel has long been a Hollywood staple, we think the way young tastemakers are wearing these super tight skirts is simply irresistible.

Bandage gear is inherently sexual, after all, there isn't a curve on the body that a form-fitting Alaia or Herve Leger doesn't reveal. Ladies like Nicole, Kirsten, Mary Kate, and Kate make this style look modern by dialing down the hubba-hubba factor. They wear their second skin-fit skirts during the day, paired with slightly oversized tees or a blazer. If a tee feels too casual, another option is to tuck in a fitted—not tight—top into your skirt, like Kate did above, for a long, lean silhouette. To avoid looking like a Robert Palmer* video vixen, we suggest leaving the stiletto pumps at home and choose a simple pair of flats instead (during the day that is, at night do what you like).
Launched!
Click "
Bottoms
" to view!
------------
All happy in our comfy home clothes ready for the show!!
Ly's place has a darn awesome sound system! The mini theatre room she has in her house is even better but we bought a lot of food so we couldn't watch the show there. :((
Merry
X'mas
once again! 12 days of x'mas so today (26) is still x'mas!
My morning was spent packing and in the late afternoon i headed to F's place for an awesome meal! Pasta and pizza!! Then we headed to get more food!! Like carrot cake, fried oyster, satay and ice cream...
GLUTTONS R US
! 
Luv 'em for loving food! Cannot stand people who hate food! No offence! If i were to hang out with a group of friends who hate eating, i'll get sooo depressed! But on the other hand, i'd be able to lose weight...which's something i'm dying to do...since
forever
. Ok who hates food and is willing to be my friend? Hahaha. 
Sorry i went off track...
So anyway, after getting all the food, it was off to Ly's place to watch the DVD we rented,
Wedding Daze
. 
Which's a pretty good show i must say! Didn't fall asleep! I always sleep while watching DVDs...especially at night.
Still at Ly's. Freda's giving me a good massage. Hehe.
Though x'mas wasn't spent partying or doing anything crazy, i must say it's a very enjoyable day spent with my favourite girls. :)
Hope you had a great day too!