It's been a week not updating this space thanks to my busy schedule. Actually, i'd always squeeze it in if i had nice pictures but sadly there weren't many nice pictures taken during the weekends to make me wanna blog.
Until yesterday...
When i found my dream shoes!
K, i've tons of dream shoes but anyway...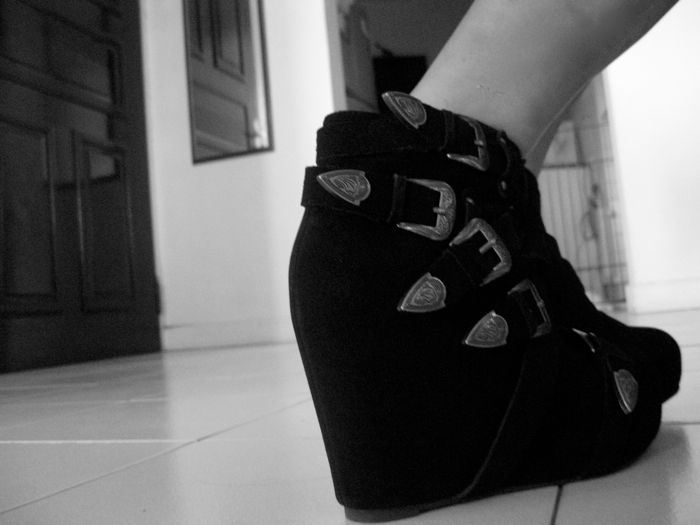 HOW CAN ANYONE RESIST THIS PLATFORM BOOTIES?!?!
(It's from PedderRed at Taka - am sure people are going to ask me where it's from and i shan't be selfishhhhh.)
Have always had a thing for wedges cus it's sooooo comfortable but most wedges i see around (that's affordable - not by some top shoe designer) looks too boring. HOWEVER THIS ONE LOOKS SO AMAZING.
Despite me buying 3 pairs of amazing 5" booties the night before, i couldn't help but to get this one the moment i saw it. My 3 pairs of shoes are gonna arrive in about 10 days from now but i no longer feel that eager to get it cus i doubt i'll love it as much as this pair!! I'm not a rich kid so paying for it did make my heart ache a lil especially because the night before i already spent so much. :(
Sigh a weakness of shoes. If you can't already tell. Sad thing is I hardly wear my high heels out! Oh well....i should learn to.
Yknow i honestly can't believe i wore polka dots out yesterday.
I looked...mad. Idk but maybe cus i don't feel comfortable RED, or should i say "RAD" (& loud).....but maybe i "was just feeling Naughty".
Hehe.
Halloween was PJ party for the 3 of us~