Gonna share with ya'll what's in my
VanityTrove
this month! Every month, i will share with you guys what's in the trove to show you non-subscribers what ya'll are missing out on. Heh heh.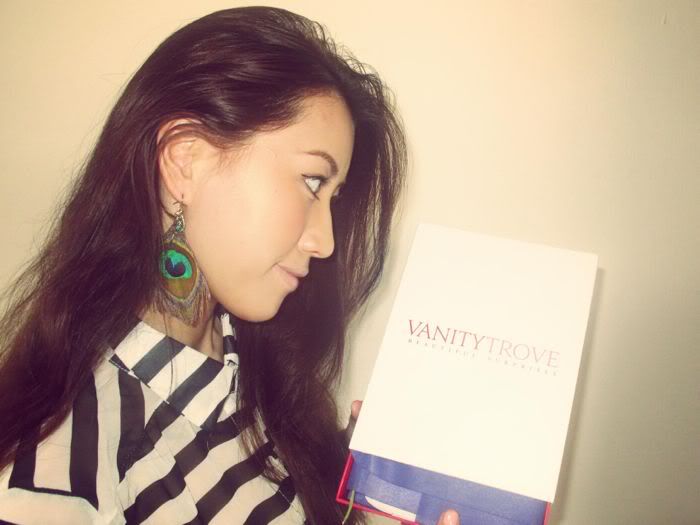 What's it about?
Basically, you pay $25/month to surprise yourself! You will receive a box every month consisting of 6-7 beauty samples (sometimes, even the full bottle).
Read more in my (

previous post on Vanity Trove

).
This February, here're some of my favourite items in beauty box!
Filthy Farmgirl "Filthy Valentine's" Soap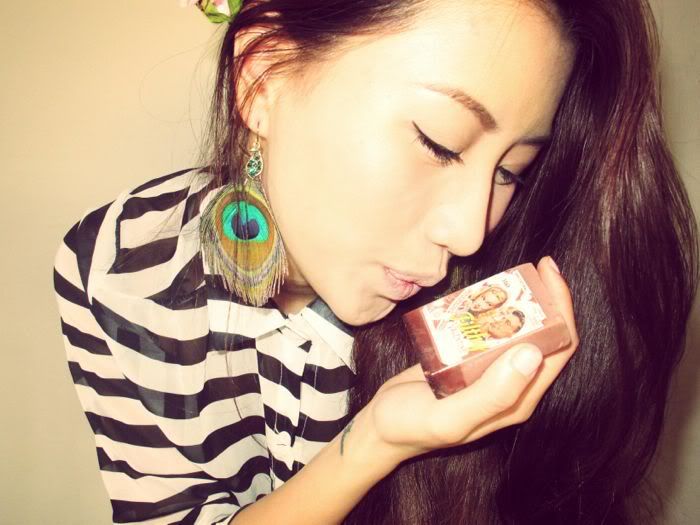 Filthy Farmgirl "Filthy Valentine's" contains Bulgarian Rose and Cardamom contents, both
which help to nourish and soothe fatigued skin cells. Bulgarian Rose oil stimulates collagen
production and slows down the age process to keep your skin supple. Cardamom extract is
effective in detoxifying the body as well as boosting your happy spirits.
All Filthy Farmgirl soaps are 100 percent natural and vegan friendly soaps without
detergents, surfactants, sulfates, artificial scents, colorizers, petroleum products or yucky
stuff of any kind.
You can choose to use it as a body soap or you can just leave it in your room! It's a very nice smell to come back to! I left it in my room yesterday afternoon and came home at night to a super nice smelling room. :)
Price:
$16.00 for full-sized bar from thenatureskin.com
Mekalaliving Regenerative Black Rice Shampoo and Conditioner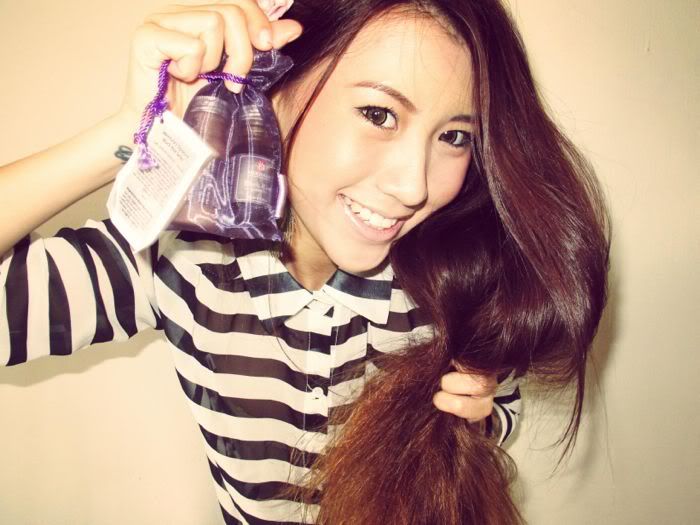 Use both together for silky, lustrous hair!
Black rice retains the bran cover, unlike process white rice, making it an uber nourishing
ingredient for the hair. Each grain is power packed with vitamins, amino acids, minerals and
a high amounts of fiber. These help to protect and strengthen hair follicles and keep your
crowning glory thick and healthy. Black rice also contains anthocyanins, a good antioxidant
and has anti-dandruff properties, taking care of your hair from within.
Price:
$22 for a full-size bottle (250ml) from mekhalaliving.com
Sign up with mekahalaliving and you'll get free samples plus 15% off your first purchase
Allerines Premium Tea (Rooibos Tea)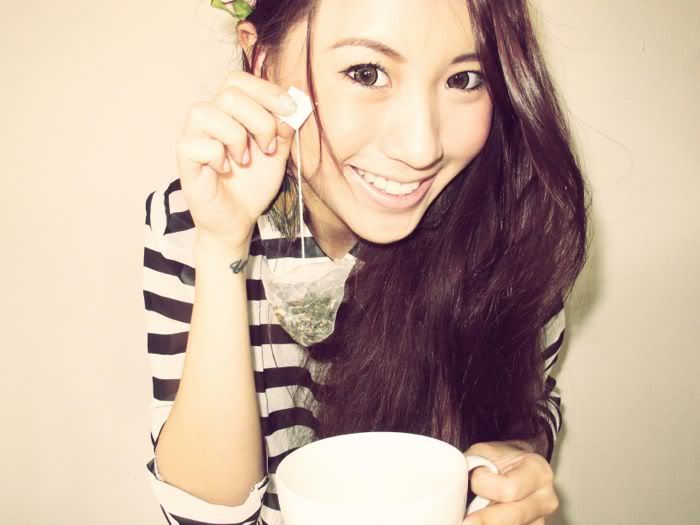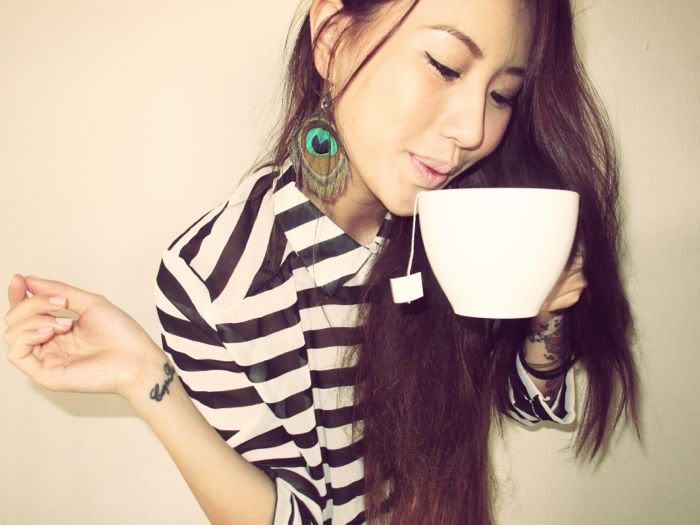 I love tea!
I'm happy that health and beauty comes in a teacup now!
Rooibos is a naturally caffeine-free tisane that originates from South Africa so you can say
goodbye to headaches induced from caffeine withdrawal!
Health and beauty benefits of the other ingredients in the blend:
Berries: not only lends to most summery scent and flavour to the drink, they contain
antioxidants which can help to flush out the yucky stuff in your system for better
skin.
Ginger: amazing at clearing you body of ailments and boosting your immunity
system.
Honey bush: nutritious, lowers blood sugar and a good source of antioxidants – plus
it can even help control appetite and aid in weight loss!
Lemon extract: helps to cleanse the blood, eases discomfort in the body and
prevents cancer.
Price:
$17.00 for 20 pyramids of 2.25g (45g) from www.allerine.com
Skin Inc Pure Repair+ Whitening Eye Masks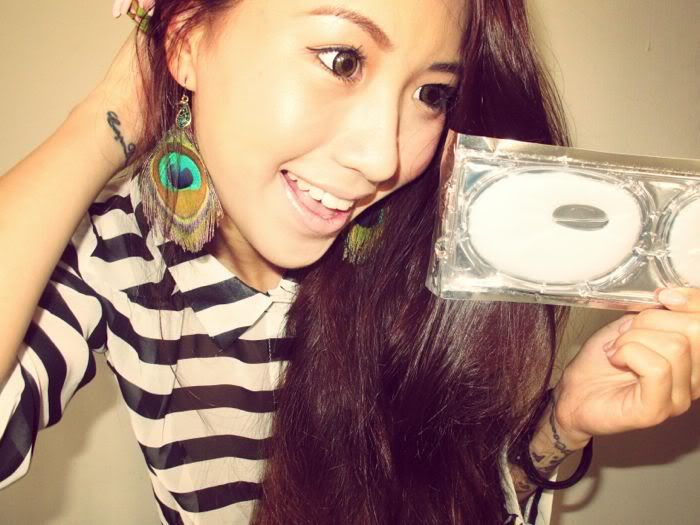 Our eyes are one of the most important organs with the most delicate skin
around it yet they often receive the least tender loving care.
From SkinC, enjoy the multi-action hydrogel Collagen Brightening Eye Mask
for the ultimate spa treatment for your peekers. This mask can brighten,
replenish AND repair with all its goodness fully absorbed into the skin in just
20 minutes!
OPI Nicki Minaj Mini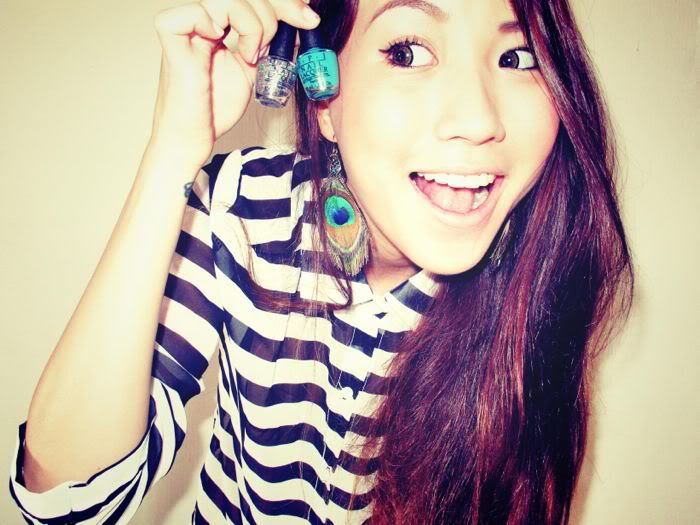 Remember me RAVING about how pretty the 2 Nicki Minaj nail colors i received from Smoochiezz are a few posts back?? IN MY TROVE I RECEIVED THE OTHER 2 COLORS! Can you imagine how happy i was?! :D
For those who heed my advice and subscribed to
Vanity Trove
when i recommended it a couple of months back, YAY YOU! You get to try the awesome colors!
So it's $25/month And if you sign up for 13 months, you get 1 month FREE. A Beauty Surprise every month!! How nice it is to be greeted by someone at your doorstep every month with a box of beauty stuff right? Shipped out on the 15th of every month, you will receive in 3-4 days, last day to register is the 14th. HOW AWESOME IS THAT?!?!?!
SIGN UP NOW AT www.VanityTrove.com if you're interested!
CLICK HERE!