Have you heard of
Camqueenoftheyear.com
?!?!
Have you seen the prizes?!?!
When i came across the site last night I WAS SO EXCITED! THIS IS NOT AN ADVERTORIAL FOR THEM. I'm going to be like a contestant!!! I'm gonna join because the prizes are so awesome! Grand Prize is a SGD$5000 in the form of a cheque. The people's choice prize is SGD$1000 in the form of a cheque.
I REALLY WANT TO WIN LOR!
Ok....shall intro you the stuff i'll be using today...
Here we go!!!
Going for the whole cutesy, girly look~~~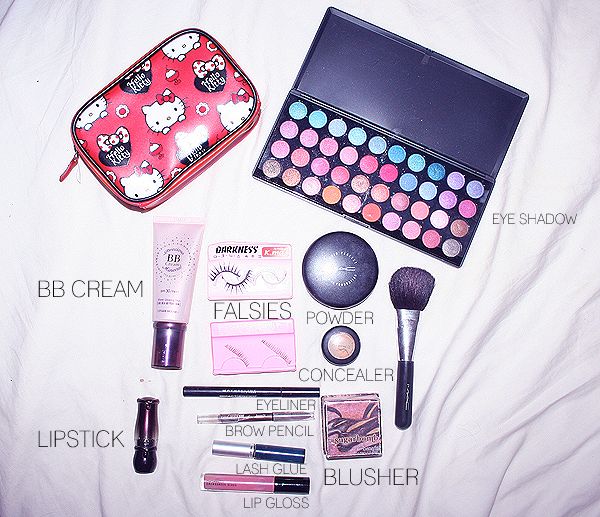 Bare Face Me
Step #1:
Contact Lens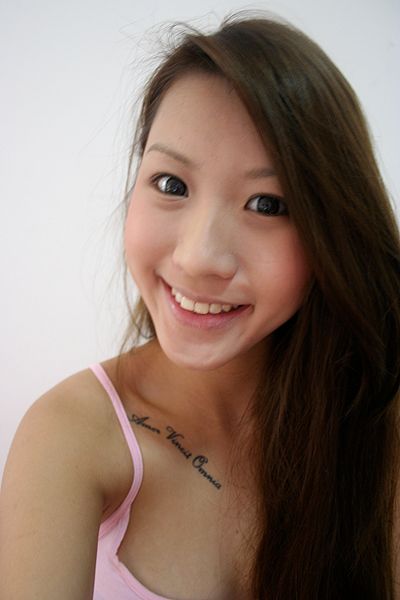 Quoting Xiaxue "Contacts make a huge difference to eyes so you should always wear them! Check the diameter before buying because anything more than 14.5 enlarges your irises!"...
I'm wearing brown Geo lenses which were sponsored many months back. Unsure of the model though!
(p.s it's expiring, any blog shops wanna sponsor me for an advert? hehe. sorry i sound cheapo...but this is one of the many advantages of being a blogger - Free Goodies ;). )
Step #2:
Apply BB Cream! This is from Etude House. Love it! It makes your skin look very glowy and healthy. After BB Cream, i'll conceal my flaws with Mac Concealer, then apply my powder!
Step #3:
Blusher, blusher, blusher! I'll never leave home without blusher!
Step #4:
Eyeshadow! Got this palette from a blog shop! Angelinajoyce or something like that. Can't remember the name. Saw it on my FB sidebar and clicked on it. The blog shop has like TONS of eyeshadow palettes! Wanted to buy a few palettes but well i'm not a very eye shadow person so yeah...
Step #5:
Stick Lashes.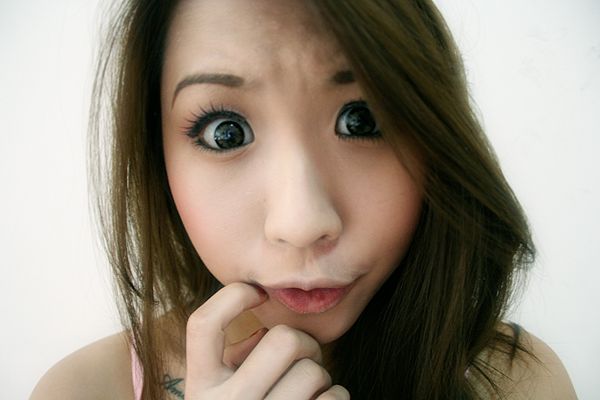 I love black eye lash glue! This Darkness brand one is super awesome! Can last a long time cus it's super sticky. Only bad thing is that removing it is damn difficult but who cares! Got it from Far East Plaza, Level 4. A shop behind my shop! Decided to try sticking lower lashes! Bought this from Far East Plaza last year and haven't tried it. FOR THIS COMPETITION I WILL TRY IT!
Step #6:
Eyeliner.
Because i'm using black eye lash glue, it's pretty messy at the top, so i'll just neaten it with eyeliner. I'm using Maybelline liquid liner.
Step #7:
Brows.
My brows are shaped at Beauti Instinct. Before getting sponsored by BI, I used to do my brows at random neighbourhood facial shops! Those $5 kind. Not so bad lah, really. If you're willing to pay, since brows are really important, head down to
BrowHaus
then! I'm using a Instant Brow Pencil from Benefit.
Step #8:
Apply Lip Color & Gloss
Lipstick from Etude House Shade PK002 & Gloss from Mac - Just Superb.
Step #9:
Curl Hair with Curling Tongs. Using a curling tong i bought from a friend called Style Rush. Contact Herman at 90103033! It's super tiny but powerful. It's quite pricey though, around $100? But because it is really very good and doesn't damage your hair! In fact it makes it smoother! Quite difficult to use though! I kinda didn't get it until i attended some work shop. Unsure of work shop details so you should contact Herman if you're keen!
VOILA!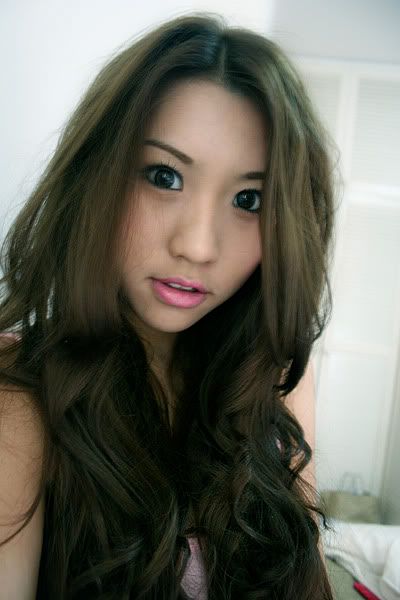 DONE!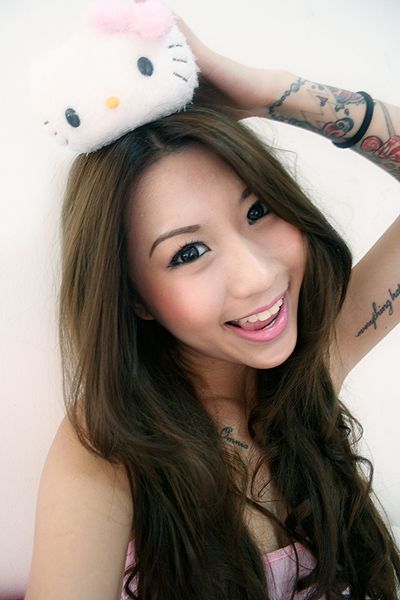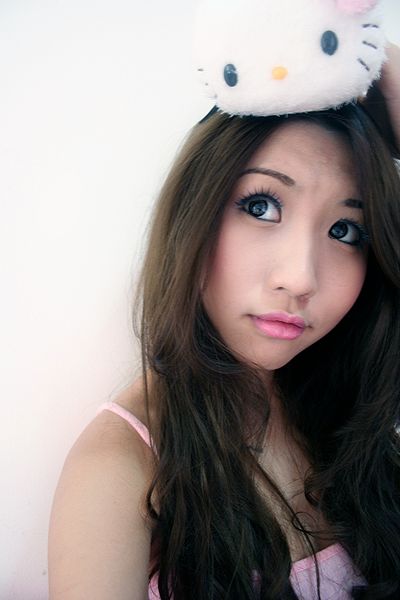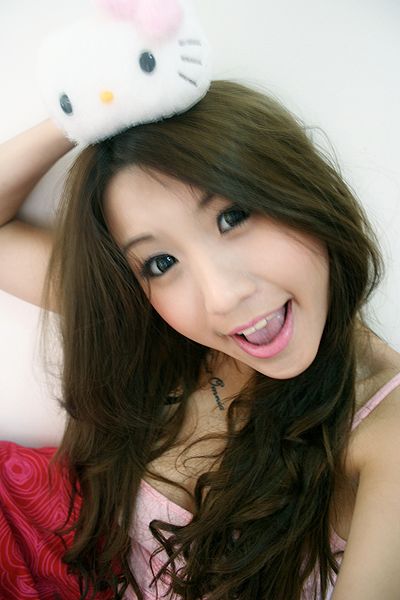 Y'know right...my birthday is exactly next week...*hint hint
Just gimme one vote for my birthday prezzie....can? Hehe. IF I WIN IT'LL BE THE BEST BIRTHDAY GIFT FROM MY READERS!
Better prezzie than the previous competition i was in 2 years back. I remember it was sometime in October too! The Canon Powershot one, remember? The one that got me my pink cammy!
I think the advertorial for this isn't out yet....because there aren't much participants. I expected much much more people participating in this. The prizes how good lor! Walau...wonder when the advertorial will be out. I think there'll be some readers reading this who'll join instead of voting also. OH WELL!!!
I already know what i'd do with the $ if i win! Haha sorry la, i like to think far! I'm going to get a wallet and maybe a bag. Then the rest save up for a trip with the boyfee~~~ I also might wanna have a contest on my blog for those who voted...maybe give away a phone or a camera? Must thank my readers what! i said MAYBE hor! So don't come and make noise if the contest doesn't happen.
Ok time to get out of the house and head down to the studio for my photoshoot for the next collection! Hehe.
p.s i think everyone's gonna get like criticised and all cus anyone can comment on the comment box anonymously. i confirm gonna kena a lot...somehow gonna affect me I JUST KNOW IT...but well life goes on doesnt it?