It's the end of the year....which also means a lot of ya'll have just graduated. Yay!
Don't you want a lot of pictures to remember your secondary school friends? Ya'll might not be going the same path anymore and it'll be really sad to part with the people you spent 4 good years together! Why not plan to do a super fun and cute themed shoot with them?
And if you really want to, Read On!
La Novella Studio
Website:
http://lanovellastudio.blogspot.com
La Novella Studio
was founded in August 2011 and is the ultimate solution for online shops, students and aspiring photographers out there who are looking for an affordable yet professional photography studio to hone their skills. The studio is also kept open for appointments 24/7 to accomodate any last minute photography assignments and/or online shop collections.
Located at Ubi, it is targeted at photographers and online shops that are situated at the east area of Singapore who have always been unable to find affordable photography studios in the area.
Address:
65 Ubi Cresent
Hola Centre #05-10
Singapore 408559
Studio prices start from as low as
$10/hour
and definitely provides good value for money with the professional equipments the studio has in it.
Check out the super good prices! It's definitely way lower than most studios! They've even extended their opening promotions to end of Decemeber!

Why not hurry now and make your bookings?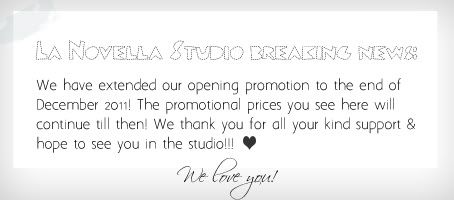 For blogshop owners or if you take photos on a regular basis, why not take up the packages they have?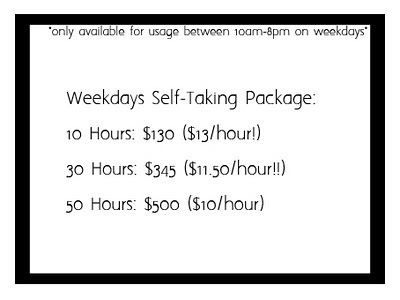 Please email them at
studio@lanovella.com.sg
if you wish to purchase any of their packages!