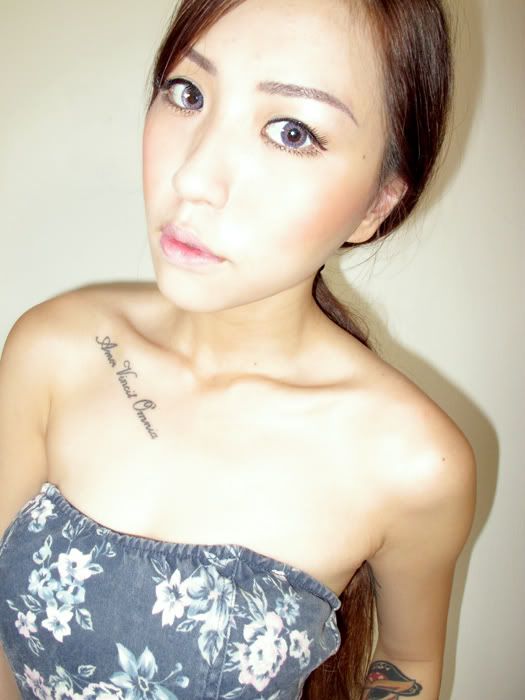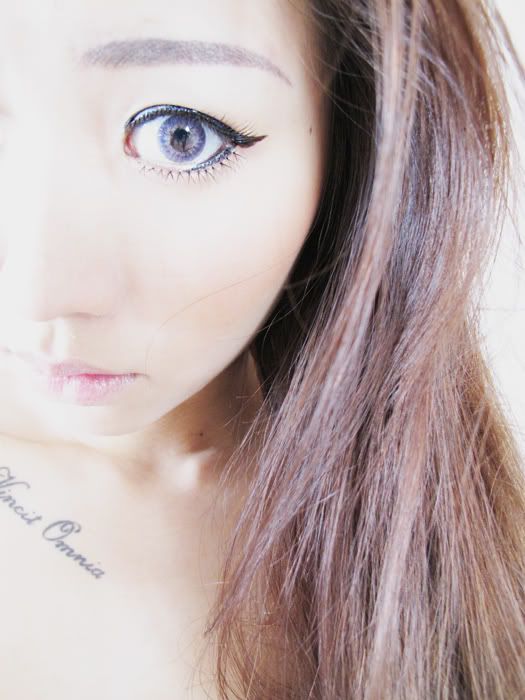 I'm wearing GEO MAGIC TRI SERIES CM-905 from
EYESATION
. If you like light colored eyes, try the Tri Series! :)
My usual brown lens is GEO SUPER DOLLY XCH-624. :)
Eyesation
is currently
the only licensed company selling GEO lens
. They are approved to import and distribute lenses to Optical Shops by HSA!
To provide more convenience for you girls,
Eyesation
has 8 shops selling GEO lenses (you can no longer purchase them online as it is banned)!
Vision Image Optical Centre
Blk 709 Ang Mo Kio Ave 8, #01-2591
Singapore 560709
At Ang Mo Kio Central near Ang Mo Kio MRT Station
Bukit Gombak
Sunny Optics and Contact Lens Centre
Blk 376 Bukit Batok Street 31, #01-100
Singapore 650376
Located at Bukit Gombak Central opposite Bukit Gombak MRT station. Behind "The Madeira" Condominium
Choa Chu Kang / Teck Whye
Jun Hang Optical & Trading
Blk 141, Teck Whye Lane, #01-251
Singapore 680141
A few units beside SKP
CLEMENTI
Eyezbox Optics
Blk 447, Clementi Av 3, @01-199
Singapore 120447
At Clementi Central near Clementi MRT Station
HOUGANG
Teck Yew Optical Co
Blk 204, Hougang Street 21, #01-127
Singapore 530204
Near Kovan MRT. Beside Heartland Mall
QUEENSWAY
Optics Today
1 Queensway, #01-51
Queensway Shopping Centre
Singapore 149053
At Queensway Shopping Centre
QUEENSWAY
Tomorrow's Optics
1 Queensway, #01-44
Queensway Shopping Centre
Singapore 149053
At Queensway Shopping Centre
SENG KANG
Eyecandy Optical Pte Ltd
Blk 437 Fernvale Road #01-04A
Singapore 790437
TAMPINES
Vision Style Optical & Contact Lens Centre
Blk 513 Tampines Central 1, #01-156
Singapore 520613
At Tampines Central near Tampines MRT next to Tampines Interchange. A few units away from MacDonalds
TAMPINES
Yu Yi Optic - Blk 139
Blk 139 Tampines Street 11, #01-28
Singapore 521139
TAMPINES
Yu Yi Optic - Blk 481
Blk 481 Tampines Street 44, #01-273
Singapore 520481
TAMPINES
Yu Yi Optic - Blk 827
Blk 827 Tampines Street 81, #01-142
Singapore 520827
TOA PAYOH
Eyelab
Blk 186 Toa Payoh Central, #01-436
Singapore 310186
Located at Toa Payoh Central, a few units beside Toa Payoh National Library
YISHUN
Honour Optical Contact Lens Centre Pte Ltd
Blk 925 Yishun Central 1, #01-213
Singapore 760925
At Yishun Central beside SHOP N SAVE
All Singapore Customers is required to order and purchase the lenses from the optical shops as it is regulated by Singapore Authority. It may not be as convenient as purchasing it directly from an online store but it's safer! Plus you won't get your degree wrong! By buying from the optical shop, we can ensure that your eye is well taken care of by the eye care professionals at the optical shops!

PROMOTION! Get 2 pairs of MIMI lenses @ $40 (U.P. $46)!!!


It's better to stock up on your lenses! For me, i buy at least 4 boxes everytime i visit an optical shop! Cannot imagine having no contact lens! I'll feel so ugly!