I travel a lot, like every 2 weeks and the countries I travel to for work are very polluted. The air is so dirty and it always ruins my skin!
Not to mention, I sleep in an air-conditioned room every single day so my skin is pretty dry already.
I
suffered outbreaks MANY TIMES because I don't have time to look after my skin or rather, didn't have time to purchase proper products to apply to keep my face moisturized.
I am thankful Loreal decided to sponsor me a range of moisturizing products which really worked wonders on my dry skin.
You can get it with the help of the new Loreal Hydra Fresh Range!

Want to know how you can get Watery-Bouncy Skin that Glows?
Hydra Fresh is infused with miraculous French Grape Seed extract. Grape Seed extract gives 50X more anti-oxidant power than Vitamin E, and is also known as the "skin vitamin" that is effective in stimulating collagen production, improving skin elasticity and brightness, and maintaining soft and smooth skin.
Combining this together with Double Hyaluronic Acid and French Spa water, the new Hydra Fresh gives skin all-day long-lasting hydration.
For skin that's delightfully plump and translucent like a grape! All you need is 4 of the Hydra Fresh products and they are all very affordable!
Here are more information on the new Loreal Hydra Fresh products.
[CLEASER]
Hydra Fresh Hydrating Refreshing Creamy Foam, 125ml ($12.90)
I love how it's creamy and bubbly. My skin feels very clean after and it doesn't feel tight like it's being ripped out of all the moisture. It hydrates and nourishes while removing make up, oil and dirt.
[TONER]
Hydra Fresh Hydrating Softening Spa Water, 175ml ($19.90)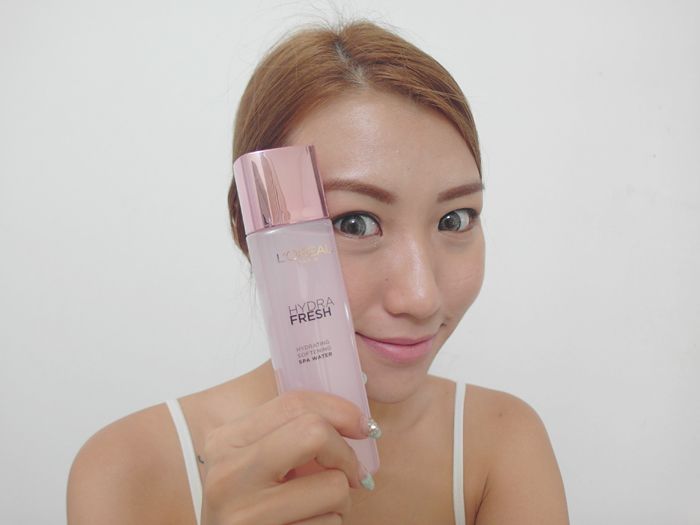 When i first squeeze it out on my palms it's like a clear gel-like formula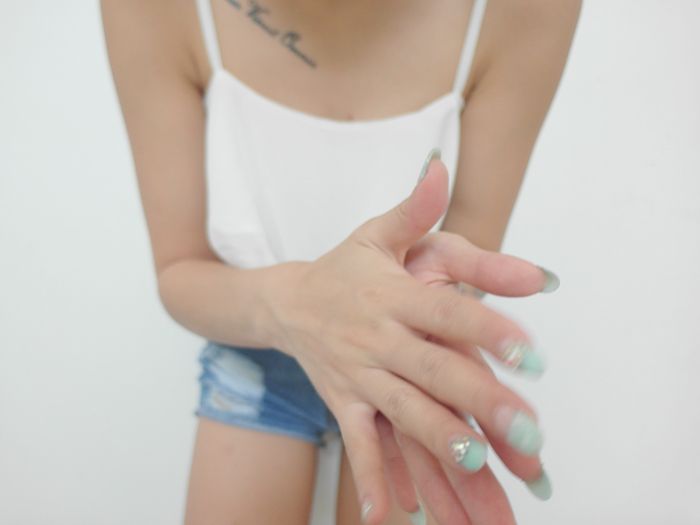 ....but after rubbing it breaks into a light, refreshing watery texture.
Originated from the French Vosges Mountain, this Spa Water is packed with 16 minerals to strengthen skin's moisture barrier function. What's more, it softens skin and helps maintain its natural balance.
[3 IN 1 LOTION] *ABSOLUTE MUST-HAVE*
Hydra Fresh Hydration + Antiox Active Mask-In Lotion, 175ml ($22.90)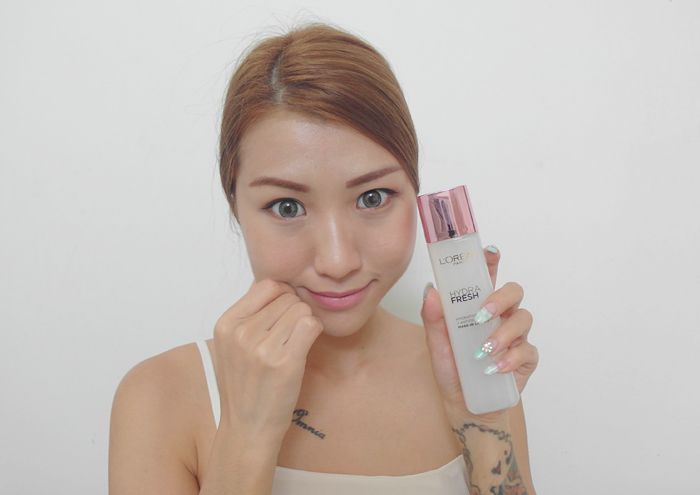 Allow your skin to quench its thirst with this smooth and juicy mask-grade hydrating lotion that has been infused with the finest French Grapes from the vineyards of Languedoc-Roussillon.
This 3-IN-1 lotion can be used as a toner, essence or mask. As light as a lotion, intense as a mask, it boosts your skin's hydration in just 10 second without feeling the slightest bit greasy.
This is MY FAVOURITE PRODUCT. It is like using a mask every day!
This is a 3-in-1 Lotion - use it as a toner, essence, or mask!
I'm sure we all know how to use it as a toner but here are 2 other ways to use this product.
How to use this as an Essence?
1. Pour mask-in lotion (approximately 20cents-sized) onto palm.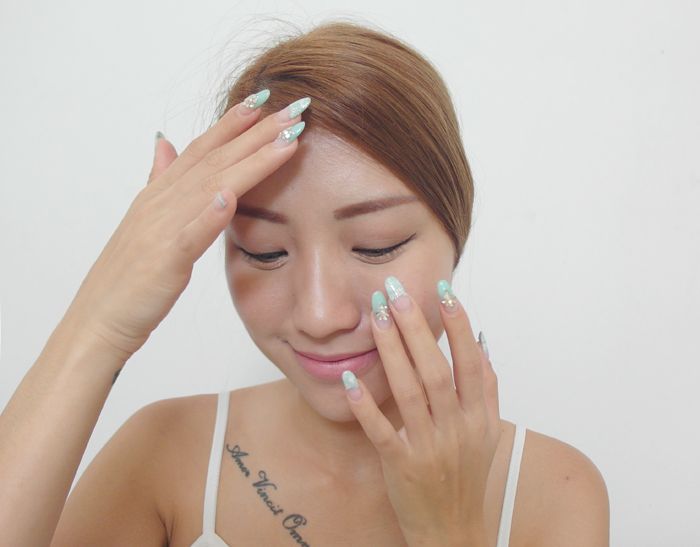 2. Using your fingers, press lotion into face gently.
How to use this as a Mask?
You can apply a thick layer and leave it on like an overnight mask or you can try this method I like a lot for more intense hydration...
Soak cotton pad with Lotion.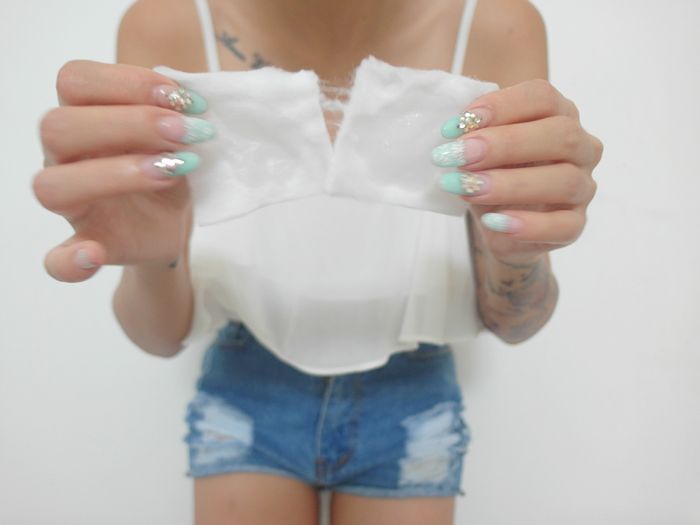 Separate the cotton pad into 2.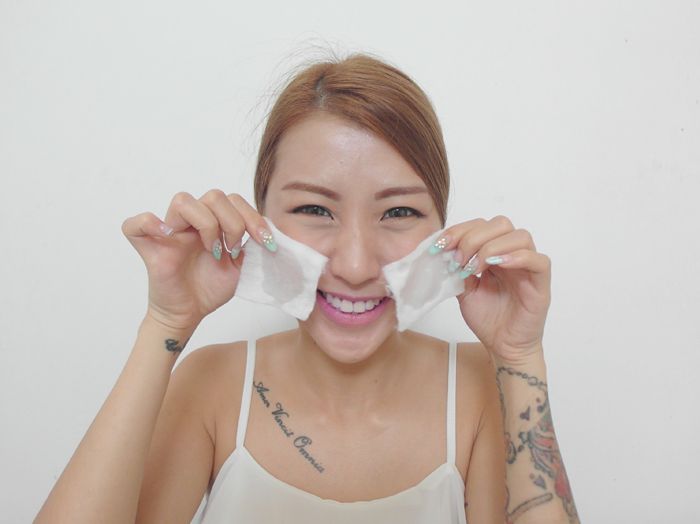 And place the cotton pads all over your face!
Alternatively, you can buy those dry sheet masks and soak them with this product!
I usually leave it on for 10 min or so.
[MOISTURISER]
Hydra Fresh Hydration + Antiox Active Supreme Emulsion, 50ml ($25.90)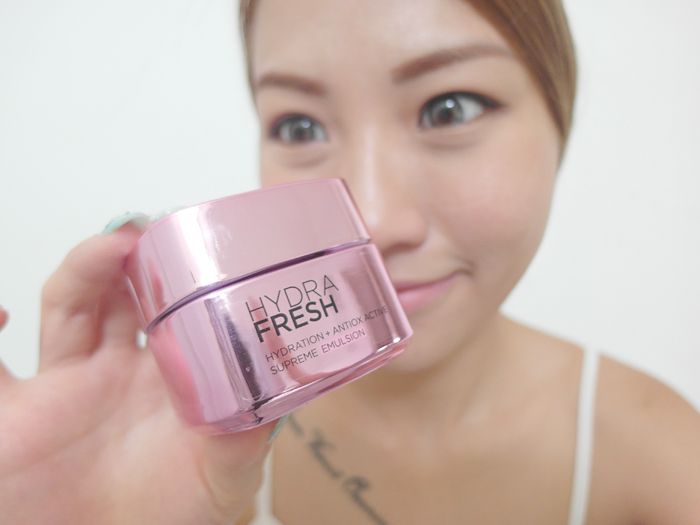 Refreshing as water, light as a lotion, rich as a moisturizer. Unlike the conventional water-in-oil creamy moisturisers, this unique oil-in- water formulation has an amazingly light texture that deeply penetrates the skin for intense hydration with no greasy residue.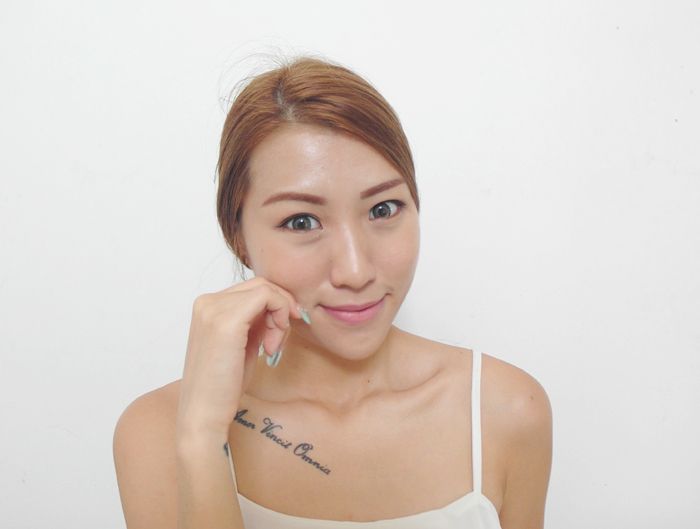 I like how this range feels so light on my skin and it is easily absorbed! Plus the smell is so nice!
The new Hydra Fresh range will be available from Mid-September 2013 onwards at leading retailers
including Watsons, Guardian, SASA, selected Department stores, major supermarkets and hypermarkets.