Have ya'll heard of Reebonz? If no,
CLICK HERE
to read the ad i did for them a year ago!
One of the most recent events...
Vintage Chanel
Gotta love Reebonz for the low prices!
Upcoming events...
I can't wait for a Balenciaga sale! Missed the previous one cus of one night of partying. Haiiiz. At Reebonz you gotta be real fast or everything would be sold out.
For those who're already members of Reebonz...
This Christmas season, Reebonz gives back to you for every friend you invite into the shopping club!
When the friend you invite sign up as a Reebonz member, your friend gets 10 Reebonz credits as a token of appreciation from Reebonz. And as the referrer, you get to
enjoy 20 Reebonz credits or 5% credits of your friend's purchase
(whichever is higher)!

For example,
If your friend bought a $1000 bag, you get 50 credits instead of 20 credits!
If your friend bought a $50 necklace, you get 20 credits instead of a measly 2.5 credits!
And it does not just stop there...
We are flying one lucky Reebonz member and friend to PARIS!
To qualify, all you have to do is successfully
invite ONE friend and get that friend to sign up through your invitation
!
It is that simple!
p.s if you wanna sign up but you dont have a friend who's an Reebonz member, click this:
http://www.reebonz.com/referrer/tastelikekisses_%40hotmail.com
------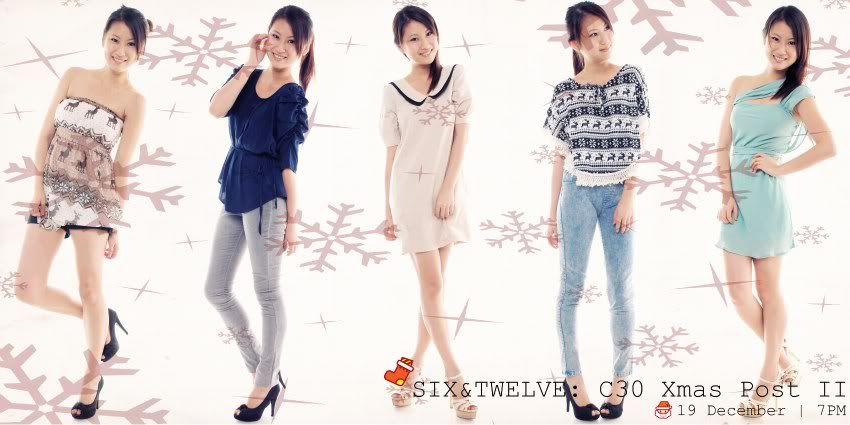 http://sixntwelve.com/
SIX&TWELVE
has just launched their 2nd Xmas Post and it's a smashing huge collection with lots of pretty dresses and tops for you girls!
Expect to find multi-way dresses in both mint and black, cape tops, puffy sleeved blouses in navy and pale pink, and so much more!
They have also a PLUS range that caters to the needs of girls who are UK14 and above.
Here's some collages of what you'll find in their site!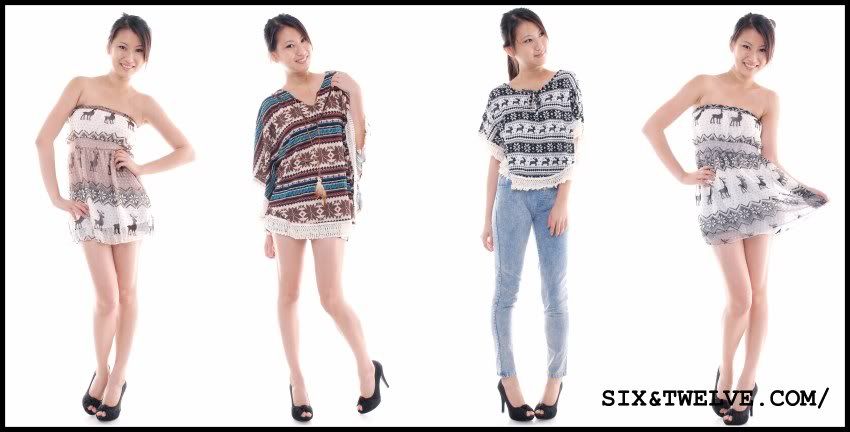 Don't you just find this range of clothings so cute and hard to resist? SIX&TWELVE brought them in just for this holiday season! Some of them are running low on stocks or even oos, so you've gotta be fast!
There're dresses for both work and play too! Quality of material of these dresses are assured and they're not sheer and thus definitely worth the moolahs you're spending at their site!
Some outfits that are suitable for school here. They have prepared 4 different pairs of jeggings and these includes acid-washed ones and corduroy ones! Perfect for chilly weathers and for your traveling needs.
http://sixntwelve.com/
Just for OSF readers, quote "
TammyXmas
" to enjoy free normal mail postage for anything that you buy from their site! They're also providing meet-ups for those who want to get their items before Xmas! Check out their site for more details and other promotions!
---------
The Youth Empire & Smoove Productions
Are proud to present to you
For the first time in Orchard Road
Since 2005's 1st Instalment of GET THE FUNK OUT 2005/2006
We present to you
GET THE FUNK OUT 2010/2011
@ *SCAPE
LARGEST STREET RAVE PARTY OF 2010
31ST DECEMBER 2010
*SCAPE, OUTDOOR PLAYSPACE
ORCHARD ROAD
8PM TILL LATE
SGD25.00
Come join us as we celebrate a season of great music, great people, great friendships,
And of course great messages and causes to start 2011 with!
GET THE FUNK OUT this year in collaboration with GRIDMMS, *SCAPE, and
The Yellow Ribbon Project come together to present a special NYE Countdown Party to bring us forth
To a purposeful and resolute New Year!
And what better way to start off a New Year than to throw our very own huge ass house party
In the heart of Orchard Road
At the *SCAPE Outdoor Playspace!
We, at GET THE FUNK OUT promise that there will be an
Electric 'Defibrillator sort of manner' HIP HOP sound bytes
that will guarantee your involuntarily body movements.
We say that there will be IN THE SCENE familiar faces, talents and DJs helming the venue
At GET THE FUNK OUT 2010/2011
Presenting to us a night long of HARD bass beats
And we quote from our very good friends, The Black Eyed Peas
That Tonight will be a GOOD, GOOD NIGHT.
So we invite everyone, young and old, beautiful and more beautiful, gorgeous and stunning
To invite your friends, partners, girlfriends, boyfriends, BFFs to our very merry
Outdoor Playspace at *SCAPE this year!
Make peace not war, Make up and Make Love for the last day of 2010!
And watch as we celebrate the countdown with Confetti and Fireworks into 2011!
Acts include (see more credentials at the bottom):
Our ever friendly pioneers of the Hip Hop Scene in Singapore,
O SCHOOL, presenting to us a series of Hip Hop Dances to kickstart our dance party!
Cheerleaders from iFLY & Singapore's Homegrown Talent, Kamsani
(Our representatives to Singapore's number 1 hit show and answer to Britain's Got Talent, OMG)
Singapore's number 1 Rock Boy Act with their chiselled good looking faces and charms,
Stellastory presenting to us a set of remixed Rock Songs to hype us to the New Year!
And of course, presenting to us our DJs for the night helmed by
SMOOVE'S 5 MEN DJ TEAM, 5MOOVE LABEL
MC SOF
DEWDROPPZ
CBCK
And presenting the newest member in our team,
our new resident R&B DJ, DJ DISCO GRENADE
And for 01 night and 01 night alone,
We will be spinning non stop R&B Hip Hop and Top 40s Music all night long
With short intervals of Electro/House/Trance and our all time Favourite, Techno
And for 01 night and 01 night alone,
We are allowing for song requests from 15th December 2010 – 30th December 2010
So tell us your favourite tracks and drop us a note at our Facebook Page!
With that, we end off our bulletin for our
LAST PARTY OF 2010
WE LOVE YOU GUYS! AND WE HAD A BLAST THIS 2010!
To those who have been turning up at all our events,
Thank you for all your patient support and for growing with the brand
To those who enjoy our music and what we do
We salute you
And lastly to those who played a part in making 2010 happen
(which means all of you)
LET'S PARTY LIKE A ROCKSTAR
ON 31ST DECEMBER 2010
AND MAKE 2011 HAPPEN FOR ALL OF US!
We love each and every one of you!
And we are definitely looking forward to a great awesome fantabulous
GET THE FUNK OUT 2010/2011
@ *SCAPE
LARGEST STREET RAVE PARTY OF 2010
31ST DECEMBER 2010
*SCAPE, OUTDOOR PLAYSPACE
ORCHARD ROAD
8PM TILL LATE
SGD25.00
XOXO
From all of us at
The Youth Empire
& Smoove
**********************************************************************************
This event is proudly created and presented to you by
The Youth Empire
Singapore's largest privately held youth organization
Established since 2004, giving you winning events, ideas and projects since 2004
Alongside
Smoove Productions
Daughter company to The Youth Empire
Established since 2008, providing you small, medium, and large scale entertainment and parties
Since 2008
Having organized at venues e.g. Zouk, The Cannery, Zirca, St James, Play, Butter Factory
This event is proudly supported by
*SCAPE
Singapore's largest youth linked agency
PAYM
People's Association for the Youth Movement
Singapore's award winning number 1 creator of all youth projects and events
GRIDMMS
Singapore's social media agency
THE YELLOW RIBBON PROJECT
Singapore's forgiving believer in 2nd chances and goodness
OSCHOOL
The Oldest Hip Hop School in Singapore
Keeping it real
STELLASTORY
Singapore's most favourite boy band
Keeping it doubly real after opening for Korean Boyband Act recently in Singapore, U-KISS
CLICKNETWORK.TV
Singapore's number 1 online media channel
Set for greater things ahead
**********************************************************************************
SMOOVE'S NEWEST ORGANIZED DJ TEAM
5MOOVE LABEL (5 Men OOVE DJ)
SUPPORTING SMOOVE & PLAY PROJECTS
Helmed by Leader of the pack
MC SOF
Performing since 2005
With his innate musical understanding of the crowd and of nights, MC SOF has performed next to international DJs like HOUSEMEISTER (from Germany), INQUIZZY (Singapore's pride), ECLIPSE (from Zouk) to name a few. MC SOF's musical influences stem from his deep influences in Rhythm & Blues, and the now evolved Hip Hop/R&B and Electropop. With that being said, MC SOF with his new team of 2011 is set to rock the party scene alive for the next year!
DEWDROPPZ
Performing since 2006
Started performing in the early days with his mentor INQUIZZY (Zirca's resident DJ), DEWDROPPZ has a fundamental love for Dubstep, and Electropop. Watch out for his stage antics as this true blue entertainer dropzz his beats this 2011
CBCK
Germany's gift to Singapore, or should we say gifts
CBCK stands for Christopher Bader and Cedric Keller., both music producers. They are the backbone of the 5MOOVE LABEL. They bring to us the latest trends and movements of UK Music and have produced tracks for overseas foreign markets. Best thing about CBCK, it's a joy to watch 02 very good looking young men on the decks.
DJ DISCO GRENADE
The newest resident R&B DJ to join the label. EMPIRE is well versed and trained in R&B/HIP HOP and promises to good grinding and truly wild time at this NYE Party. So catch EMPIRE spinning for his debut set with 5MOOVE this NYE! And experience a never like before party!
**********************************************************************************
For Ticketing Purposes
Please email kai@thesmooveproductions.com
OR
Please call +65 6554 0850 (12pm – 7pm daily) – BEFORE EVENT DAY
Or please call +65 93877424 (12pm – 4am) – ON EVENT DAY
Thank you.