1. GIPSYPIXIE
http://gipsypixie.livejournal.com/
2. Kissable Bella
KISSABLEBELLA
is one of the blogshop which you have to bookmark because their apparels will definitely spice up your daily outfits !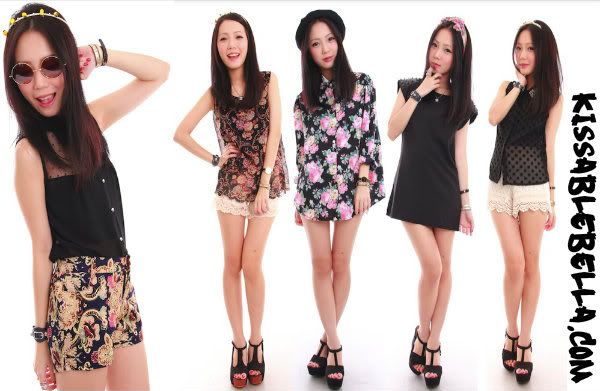 They will be updating weekly from now on So, don't forget to like them on
FACEBOOK
for first hand updates & preview of new collections!
WEBSITE :
http://kissablebella.com
FACEBOOK :
http://www.facebook.com/pages/Kissablebella/250032125013239
TWITTER :
http://twitter.com/#!/shopKSB
3. Static Fumes
4. ELRA Cosmetics
They import different cosmetics from different brands, such as M.A.C, E.L.F, URBAN DECAY, and many more coming up in May/June!
It'll be definitely cheaper than retailed stores! And also, they've brought in the lastest NAKED PALETTE 2 BY URBAN DECAY!
Worrying about it getting out of stock at retail outlets? Get it from ELRA Cosmetics TODAY!
I HIGHLY RECOMMEND ALL OF YOU TO OWN THE NAKED PALETTE!!! I have both
NAKED PALETTES 1 & 2. I personally prefer the 1!
It's super popular among a lot of beauty bloggers so i knew i had to get hold of it and I AM SO GLAD I DID! This product sure deserves ALL the hype it's getting.
The colors inside are suitable for EVERYONE! Tan, medium or fair! It is also very worth it because you only pay $60 for 12 colors! And these are full sized Urban Decay shadows. Oh if you're wondering how much you can save, well, the NAKED palette is retailing at Sephora for $70+!
Here are some reviews & tutorials on the Naked Palette....
I'm sure you'd want to get it after watching it. :)
This would also make a PERFECT gift to a friend! OH HOW HAPPY I'D BE IF SOMEONE GAVE THIS TO ME!!!
For those who like colors, you can get the Urban Decay Eyeshadow Ammo Shadow Box.
It's $40 for 10 colors! So that means $4/color. You save A LOT!
Here's a tutorial you can try out once you've got hold of the Urban Decay Ammo...
So get it from...
They ship internationally!