Omg the weather is too perfect to sleep in! I'm going to do so right after this post! Im really excited to write this so yup! Hehe.
So i went down to Beauti Instinct for facial yesterday and oh boy, i'm so glad i took time away from work to do the treatment cus now my skin is soooo awesome! I'll be doing without foundation because i love how it looks naturally! Last night, before sleep, my boyfriend touched my face and went like "Wahhhh so smooth and soft!" and i felt my own face and couldn't stop touching my face! It was soooo soft & felt so healthy! I touched myself to sleep. Lol.
Aunty Rita did the new treatment she brought in on my face called the C-Vital and SERIOUSLY, THE MAKERS OF THE PRODUCTS ARE GENIUSES!
The result?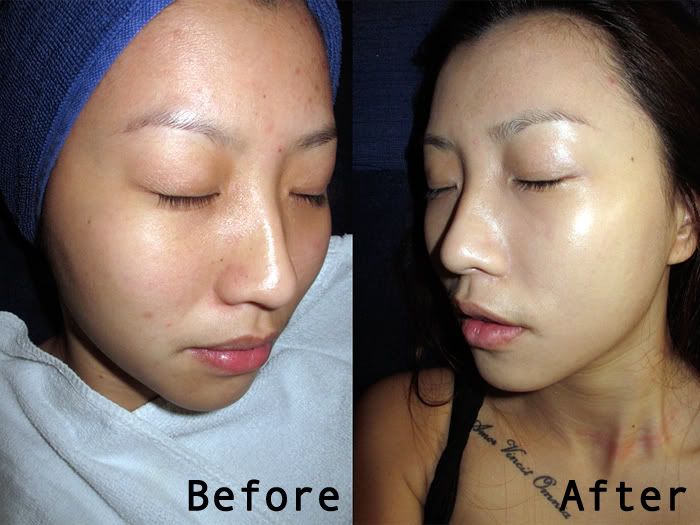 Am i exaggerating the awesome-ness of the treatment?
I DON'T THINK SO RIGHT???
You can see in the before picture, my skin's pretty dry and dull. In the after picture (which was just an hour later), my skin's glowing, my skin tone is more even and i'm fairer!
NO PHOTOSHOP ON MY COMPLEXION! I SWEAR!
Stress, pollution, too much sun, abrupt temperature changes produce free radicals that damage skin cells accelerating the appearance of signs of premature ageing in the form of wrinkles, expression lines, loss of elasticity and luminosity.
The treatment is SO SHIOK. Like 30 min of face massage. :D I love face massages! You really feel so much better both inside out after the treatment.
If you are keen on doing the above treatment i did...
Mention "Tammy Treats" (hehe so cute right) for
Silk Peel + C Vital + Eyes and Neck Treatment = $299 (U.P $856)
Beauti Instinct
545 Orchard Rd #03-14 Far East Shopping Centre (the one beside Hilton Hotel)
Tel: 67339149
(call if you have questions instead of leaving a comment.)
Call Beauti Instinct up to book an appointment!
-----------------
p.s last 10 slots open for Backorder -
Brown Dolman Sl Dress
. Quickly go order so i can place an order with my supplier! I kept a piece for myself and LOVE IT! Material and cutting is great. :)