I mentioned that my complexion worsened when i came back from Tokyo right?
I'm quite sad i'm not the kinda girl who doesn't need facial to have a good complexion. :( Those girls are just so so lucky they dont have to spend all that money on their faces! I used to not go for facial and just keep trying random products from Watsons but my face never got better. I had the mentality that if those girls dont need facial to achieve that complexion, i don't need too! Sadly, that's not how it works...all of us have different skins.
Never had the complexion i wanted till i visited Beauti Instinct! Been with them for over a year already and will keep going back there because they've saved my skin from getting worser SO many times!
Below you can see how bad it got! A lot of congestion, and super dry at certain areas! Been so reliant on make up before my facial man. So glad i do not have to pile on all that foundation cus my skin condition improved so much.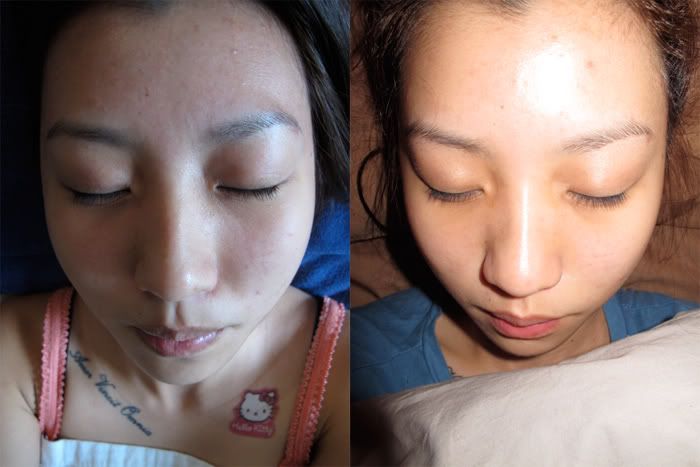 Before & After.
I asked Aunty R why it got so bad and she said i shouldve consulted her before i went to Tokyo cus you must use the right face products for different weather conditions. I've learnt my lesson and will always ask her what's good to bring over to cold countries from now onwards.
Because i had a lot of Congestion, i did the Deep Cleansing Cyro + Electro Therapy.
Because of all the congestion, Aunty R did a lot of extraction. Gotta love the extraction at Beauti Instinct cus they do it really gently unlike a lot of places. I've introduced Beauti Instinct to a lot of my friends and they agreed that the extraction at Beauti Instinct doesn't hurt as bad as a lot of places they visited previously. Despite all that extraction, i was still able to go out the next day without a lot of red marks cus the Electro Therapy helped my skin heal a lot faster! Redness was gone by the 2nd day. My face felt so smooth and clean after the extraction! Didn't feel so dirty already and make up glided on super nicely. :)
If you don't already know, i love glowy complexions! However, when i have a lot of bumps and i use my highlighters and illuminators, my face just looks oily and dirty instead of dewy and healthy. So whenever i have a lot of problems on my face, i have to mattify my face which i dont like cus i like the glowy sk2 advertisement look! Now, after extraction and clearing up all the bumps, the base is smooth and when you apply the highlighter and illuminators, you can achieve that healthy, dewy look! Plus i use less foundation which is good for my face!
If you're keen on the treatment i did, you can do the one time trial at this really special price...
$119.00
(Usual Price: $249.00) !
Or if you're confident that'll work for you, get the package at the following prices...
3sessions Promo $319.00 U.P: $747.00 @ $106.33/ Session
5sessions Promo $499 U.P: $1'245.00 @ $99.80 / Session
8sessions Promo $669 U.P: $1'992.00@ $83.62 / Session
13sessions Promo $1'009 U.P: $3'237.00@ $77.61 / Session
Mention OSF/Tammy to enjoy the above treatments at the special price stated! Also, if you wish to do the other treatments not stated above, mention my name to get 10% off. :)
Call
6733 9149
to book an appointment!
Beauti Instinct is located at...
545 Orchard Road #03-14
Far East Shopping Centre (the one in between Hilton Hotel and Wheelock)
Singapore 238882
p.s last but not least, I NEED TO TELL YOU GIRLS TO TRY GEL PLUS FROM BEAUTI INSTINCT! especially those who've very problematic skin. you can call them to ask them more about it! it's a gel i got from them to help maintain your skin after facial!